It seems that the next paradigm shift is making its presence known, and that is the tilt from centralized cloud computing to decentralized blockchains. With the advent of the coronavirus pandemic, cloud computing is presently enabling remote working experiences for many as a distributed team can access and leverage on a unified work platform.
Decentralized cloud computing: what you need to know on aelf (ELF)
Presently, there is growing knowledge that a more decentralized cloud computing methodology could be a catalyst for enterprise business transformation. For instance, on the aelf blockchain, which represents a decentralized cloud computing platform, organizations can utilize aelf in multiple business scenarios as it offers blockchain empowered economic models to stimulate their members.
aelf's developing decentralized media platform stores information away in a blockchain buttressed anonymous system to protect media workers from certain pressures, thus reducing privacy concerns. The platform also remains compliant with security certifications that reassure property protection. On August 20th, China Electronics Technology Standardization Institute (CESI) provided accreditation on aelf Enterprise in its reliability, performance, and functionality.
What is aelf (ELF)?
Earlier stated, aelf is a decentralized cloud computing blockchain platform. It represents a real Layer 2 solution different from any other projects currently as it allows NFT to circulate between the Ethereum and the aelf ecosystem. ELF refers to the main token on the aelf platform, used for transaction fees, side-chain index fees, production nodes deposits, voting, and block rewards.
To expedite aelf's integration with multiple business use cases, aelf enterprise is tasked to meet the requirements of different industries ranging from supply chain management, credit scoring, user incentives, and property protection. The aelf Enterprise lays the foundation for aelf mainnet token swap slated for September 2021.
Growth prospects for aelf (ELF)
aelf represents a big shift in decentralized computing based on three factors: Affordability, Scalability, Interoperability. First, aelf's service fee is fixed at $0.1 regardless so that users could enjoy its high performance at a low price. Second, aelf innovated on its multi-sidechain systematic structure as well as its cross-chain collaboration mechanism, enabling unlimited scalability to solve today's most pressing issues and to promote the future digital economy.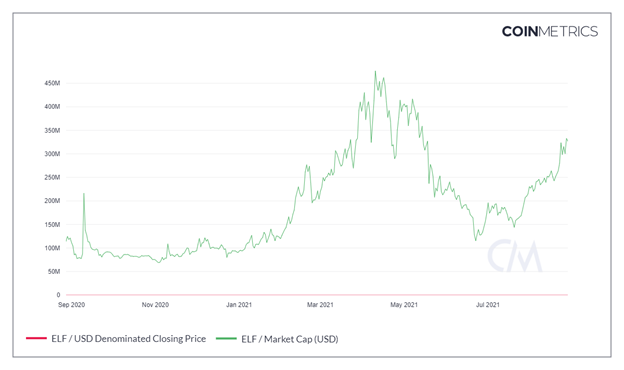 Courtesy: Coinmetrics
Third, aelf versatile oracle could help retrieve data or digital assets and transfer them between projects, thus offering the highest degree of freedom to its users (cross-chain function). Based on the cross-chain technology of the main chain index and verification mechanisms, aelf achieves efficient and secure communication between the main chain and all side chains, and as a result, allows direct interoperability between side chains. Through offering opportunities related to NFTs, one of the hottest sectors in the crypto space, aelf is well-positioned to continue to attract new users and maintain a high level of on-chain activity.
Right now, ELF is changing hands at around $0.45. Having rebounded off strongly from MA 200 barrier at $0.30 in August, aelf is looking to push upwards further. Bullish bets on the ELF price range are within $0.76 and $1 by the end of 2021.
About the Author:
Tomiwabold Olajide is a forex trader and cryptocurrency analyst. A technical analyst, as well as an experienced fund manager, he has also co-authored several books on Forex trading. Tomiwabold pays great attention to cryptocurrency research, conducting a comprehensive price analysis and exchanging predictions of estimated market trends. He studied at the University of Lagos.




Image by Free-Photos from Pixabay