Stock Trading Book #3: Trade Like a Stock Market Wizard by Mark Minervini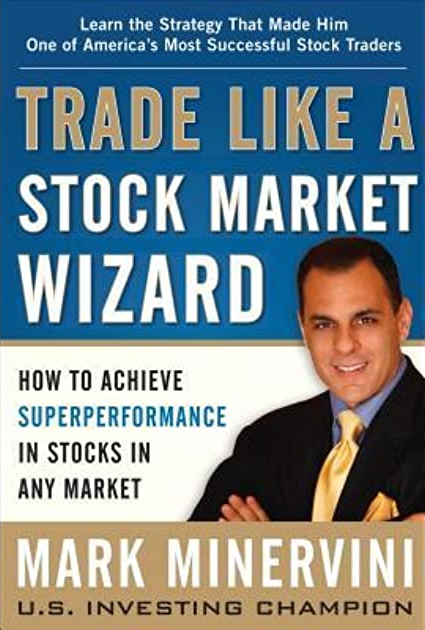 As a trader for almost five years, here's an important principle that I've learned that would've shortened my learning curve…
"Model someone successful."
It means that before you even think of creating your own rules and strategy, you must successfully follow a working one from a successful trader.
Who's that trader?
Mark Minervini.
He's been a wall street veteran for almost 40 years.
He's a market wizard.
He's a top trader on the U.S. Investing Championship who recently made a +334.8% gain with a million-dollar account last 2021.
In his book?
He shares with you his thought processes and his exact techniques not only in selecting stocks…
But also how he enters and manages his trade, understands the framework behind them, and deals with losses.
It's an all-in-one book that teaches you how to enter trades and manage your trading business through good and bad times.
So here are the three things I've learned from this book.
1. Paper trading can be a waste of time
A few years ago, I had my first major setback as a trader, where I lost half of my money trading the markets.
Before I get back trading live in the markets, I told myself that I want to be prepared with a solid trading plan with an edge!
But here's what I didn't know…
The fear of trading live in the markets and possibly losing half of my money again was still there even though I didn't realize it!
At that point, I wasn't growing as a trader, and it felt like my trading journey was going nowhere; even though I'm only paper trading,
I was wasting my time!
Now, why am I telling you this?
You see, I was questioning my growth even though I'm not making an actual performance in the markets, and I hope that you won't end up in the same situation.
So, instead of "waiting" for the right timing to trade live…
Start fast, but start small, because as himself Mark said:
You perform better when you're putting real money in the line!
Nonetheless, if you need a concrete plan on how to transition from paper trading to live to trade, then this training guide has the answer: The Complete Guide to Demo Trading
2. Follow stock leaders and avoid laggards
Remember the two other books I've shared with you just now?
At some point in those books, you'll always encounter a chapter about leading and lagging stocks, including this one.
Here's the thing…
Mark Minervini, William O' Neil, Jesse Livermore, and more veteran stock market traders can agree to this principle:
Always follow leaders, the best performing stock in the industry, and avoid laggards.
So how can you do just that?
How will you be able to determine leaders out of thousands of stocks out there?
Simple, use a stock filter and make sure you're looking for stocks that are up for the year: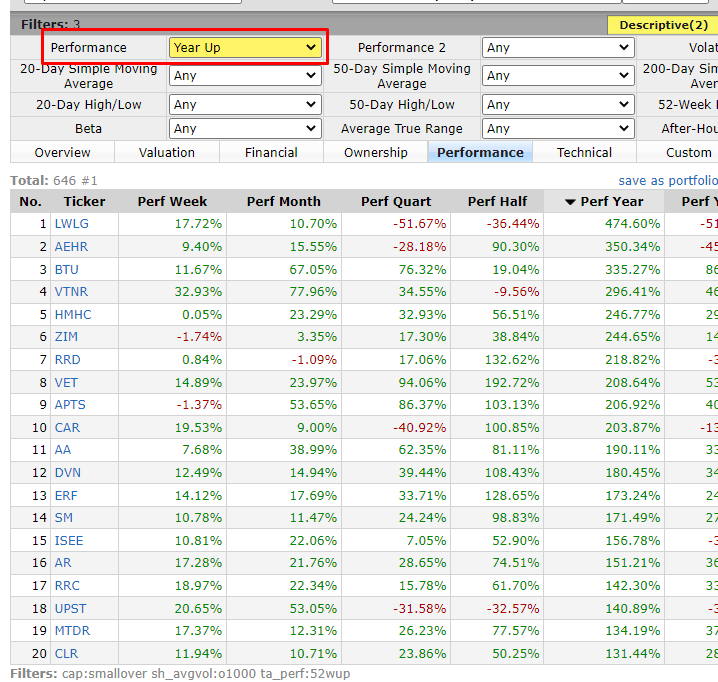 Rank them based on their performance, and focus trading the top 10 stocks on the list: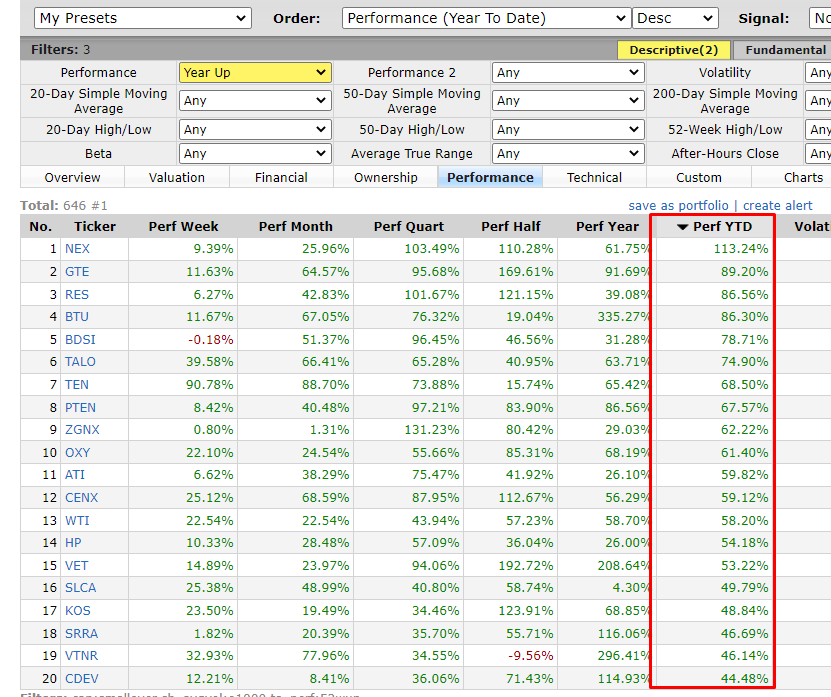 Pretty cool, right?
Of course, there are other criteria that you can include when using stock screeners, but if you're interested, you can use the same settings that I've shown you here.
Overall…
The stronger the stock is, the higher the chance is for the stock's price to hit your take profit levels.
3. Make improvements with your trading habits first before you improve your trading strategy
At the end of the book, Mark Minervini mentioned that if you're on a losing streak, it's either one of these reasons:
Your criteria to select stocks isn't working
The market condition isn't compatible with your trading setups
Truly, those two reasons helped me as the market changed throughout the years.
But as time went on, I realized that it's just one side of the coin.
So what's the other side?
It's yourself.
Let me explain…
When you are currently on a losing streak, the first thing that you should ask yourself is:
Have I followed my entry rules more than 80% of the time?
Have I managed and exited my trades based on my trading strategy more than 80% of the time?
If you've said no to any of those, then you must make changes to your trading routine.
That's right.
If you find yourself breaking your rules most of the time, then the strategy isn't the problem here.
So, when reviewing trades, constantly improve your trading habits first before you improve your trading strategy.
Got it?
But if you're still not sure how to create your trading journal, then check this out:  How to Create a Trading Journal and Find Your Edge in the Markets
Now with everything I've shared with you, let's put things into perspective…
Conclusion
As you've noticed…
Each book has its type of trading wisdom and techniques to offer.
However, the effectiveness of a stock trading book depends on what stage you are in on your trading journey.
So even though all of these books are must-reads, choose the one you think is best for you and apply concepts as fast as you can.
Sounds good?
Now here's what I want to know…
Is there a stock trading book I've missed on the list?
What else can you recommend?
Let me know in the comments section below!