A Simple Donchian Channel Strategy For Trend Following
Before we get to the meat of this section…
It's essential to know that the Donchian Channel isn't a holy-grail magic indicator to be worshipped.
It's simply a tool, and it's how you use it that matters.
That's why before you consider yourself worthy of wielding the Donchian Channel, you must ask yourself:
"What is my trading method?"
"What types of trades do I want to capture?"
In this case, it's trend following—where your goal is to buy high and sell higher.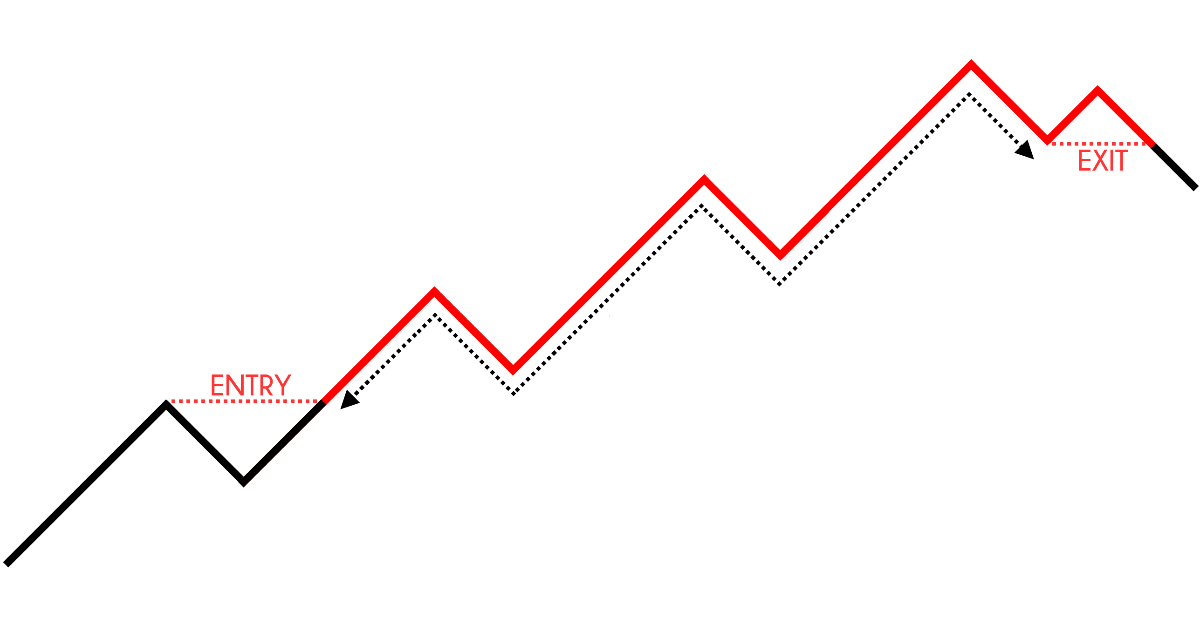 As you can see, you don't try to capture and predict tops, but you try to follow the trend until it bends.
So, let me show you how to use the Donchian Channel to achieve those goals.
Donchian Channel: Trend Following Strategy Rules (Long Only)
Entry Rule: Enter if a stock closes and makes a 20-day high (20-Period Donchian Channel)
Exit Rule: Exit if a stock closes and makes a 10-day low (10-period Donchian Channel)
Risk management: 10% portfolio allocation (maximum of 10 open trades)
Initial Stop loss: -10% from the purchase price
Let me break it down for you and show you some examples.
Since we want to buy high and sell higher, we'll use the 20-period Donchian Channel to reference our entries.
So you'd want to wait for a stock to close above the upper channel (which means it made a 20-day high).
MRNA daily timeframe: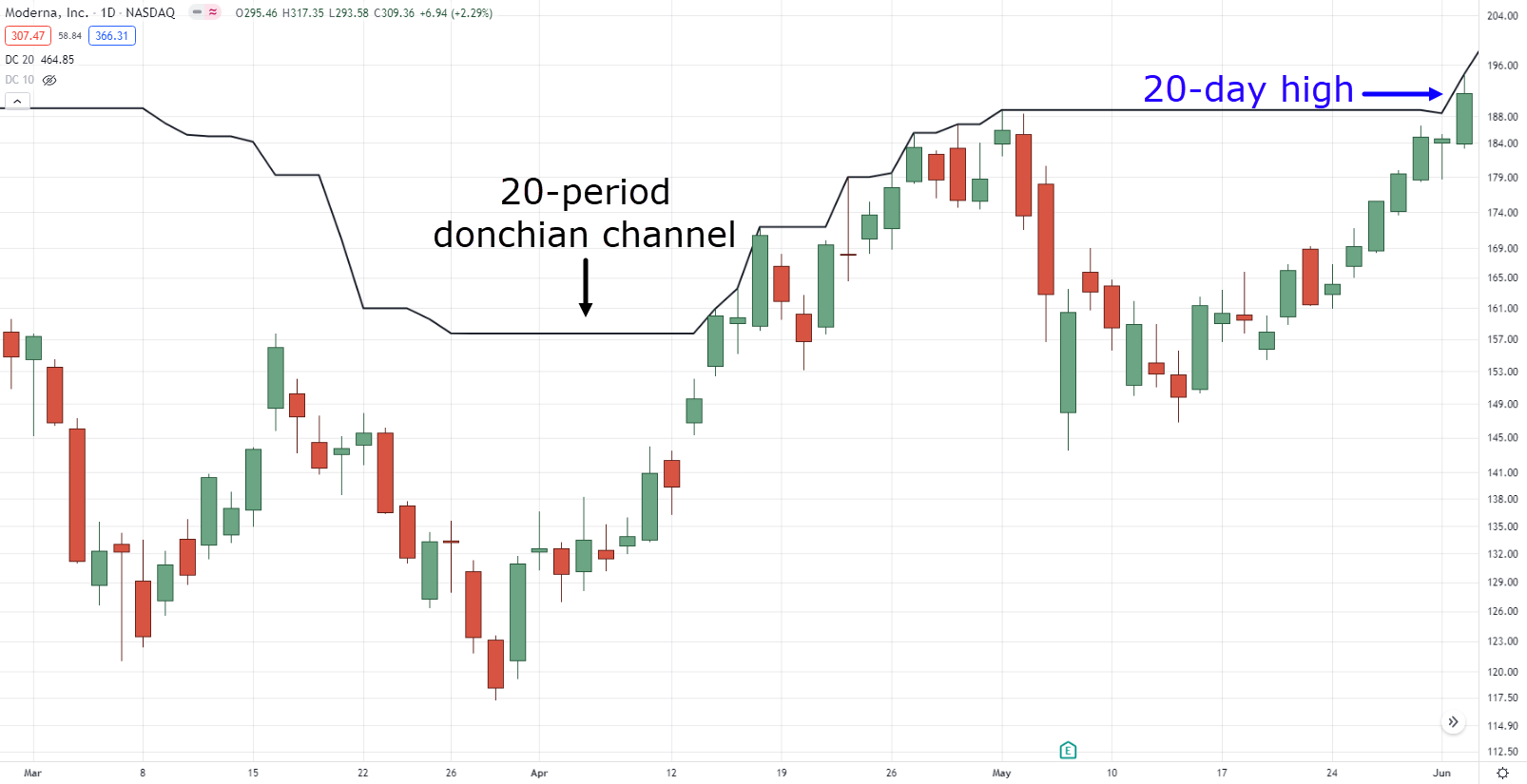 And consider entering the stock on the following day open…
MRNA daily timeframe: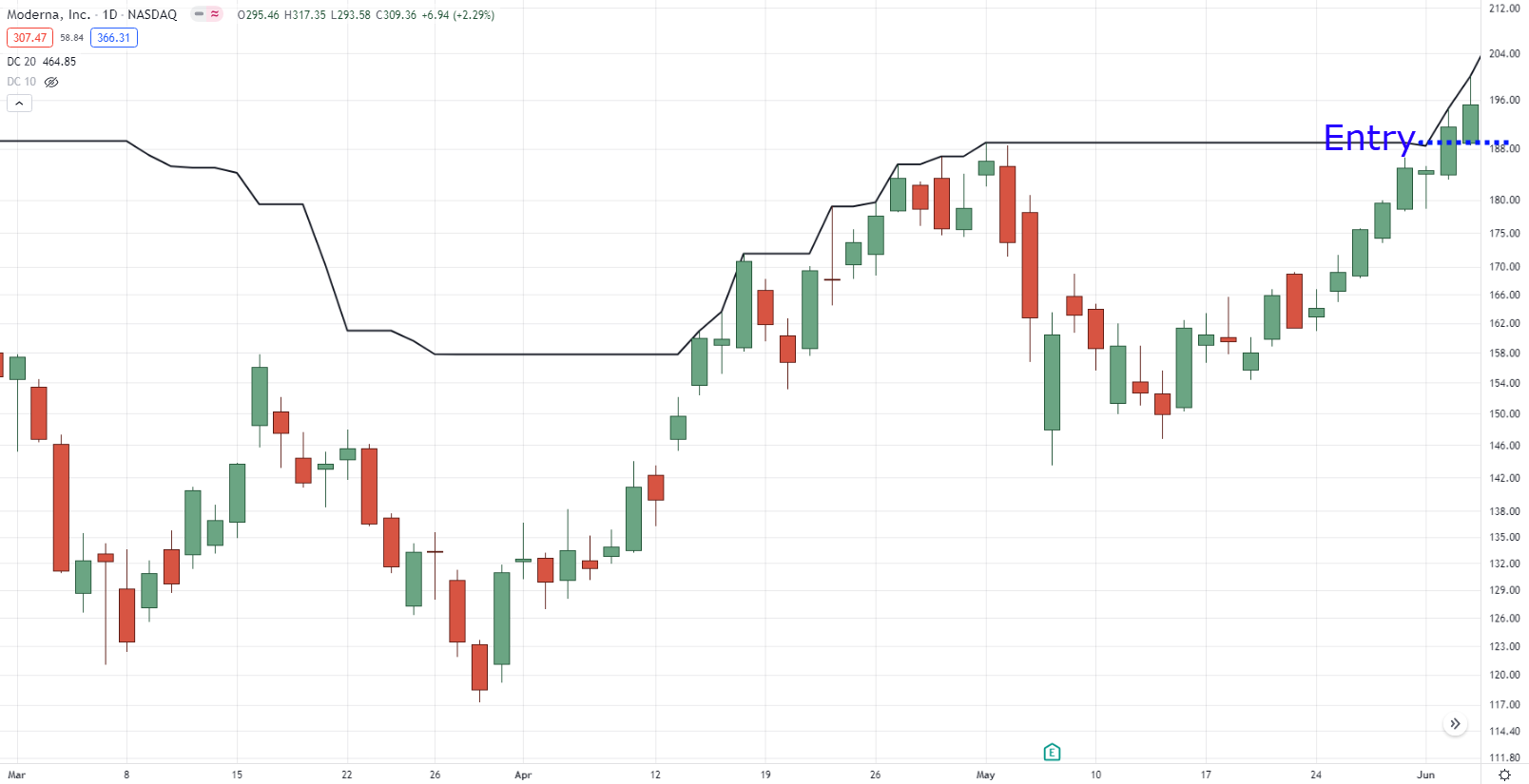 Of course, no strategy is complete without an exit rule.
So for this strategy…
You'll use a trailing stop loss method, which is to wait for a stock to make a new 10-day low (10-period Donchian Channel).
MRNA daily timeframe: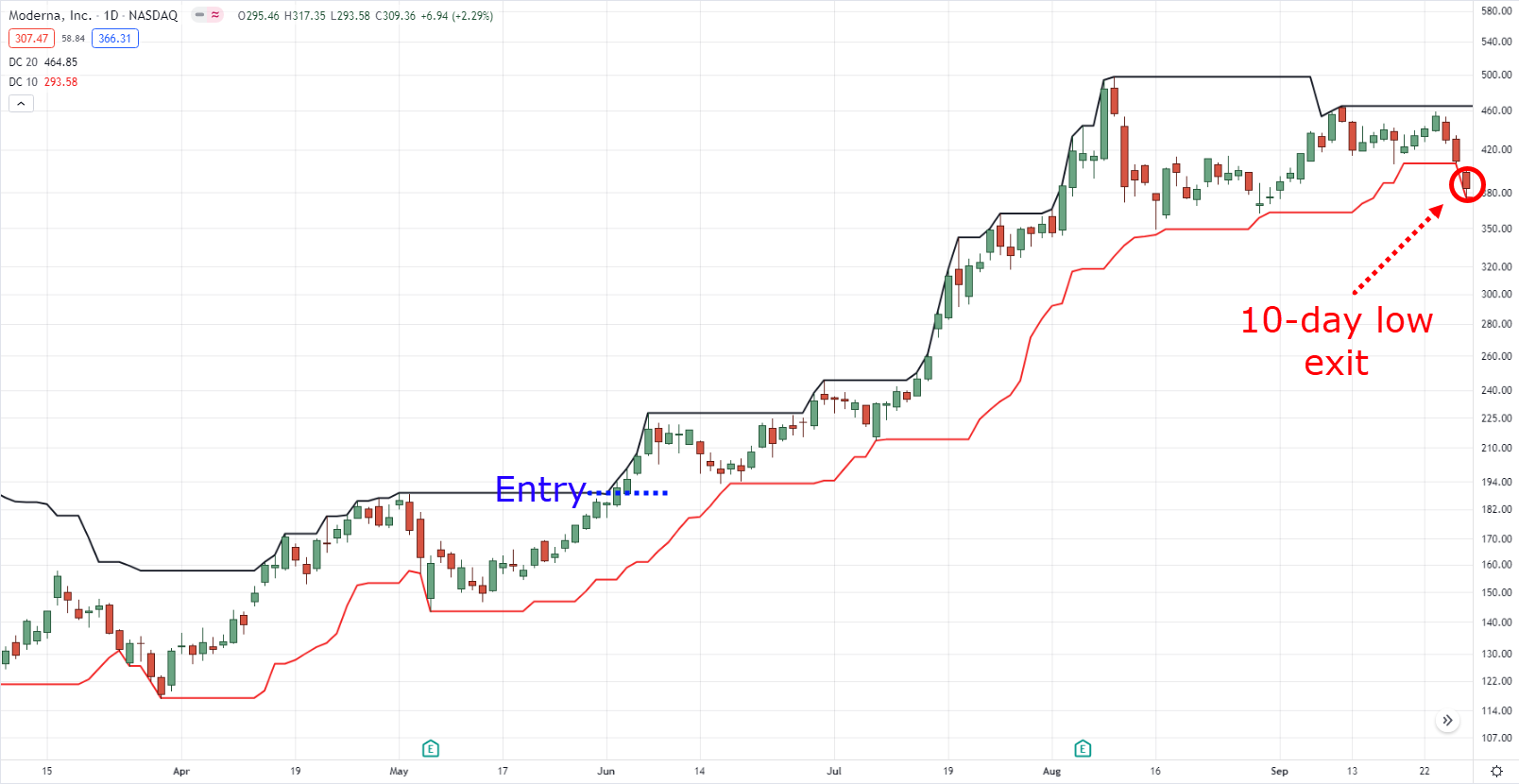 That's pretty much it!
Can you see how simple it is?
Use the black line to time your entries and the red line to time your exits.
It's systematic and easy to understand that even a 10-year old can do it too!
Now here's the big BUT…
Does it work in the live markets?
So far, this strategy has produced a 15.15% return over the past six months…

Of course, depending on how aggressive you are (i.e. increasing your allocation per trade), your returns could be more than 15%.
That's why you should never take these results at face value because your results may vary from mine.
But one thing you can take away is that it works in the market despite the index performing very poorly.
Sounds good?
Now, in case you're wondering…
Does this strategy work in the forex market?
After trading this strategy for the first three months, the results are pretty surprising.
It did not perform very well…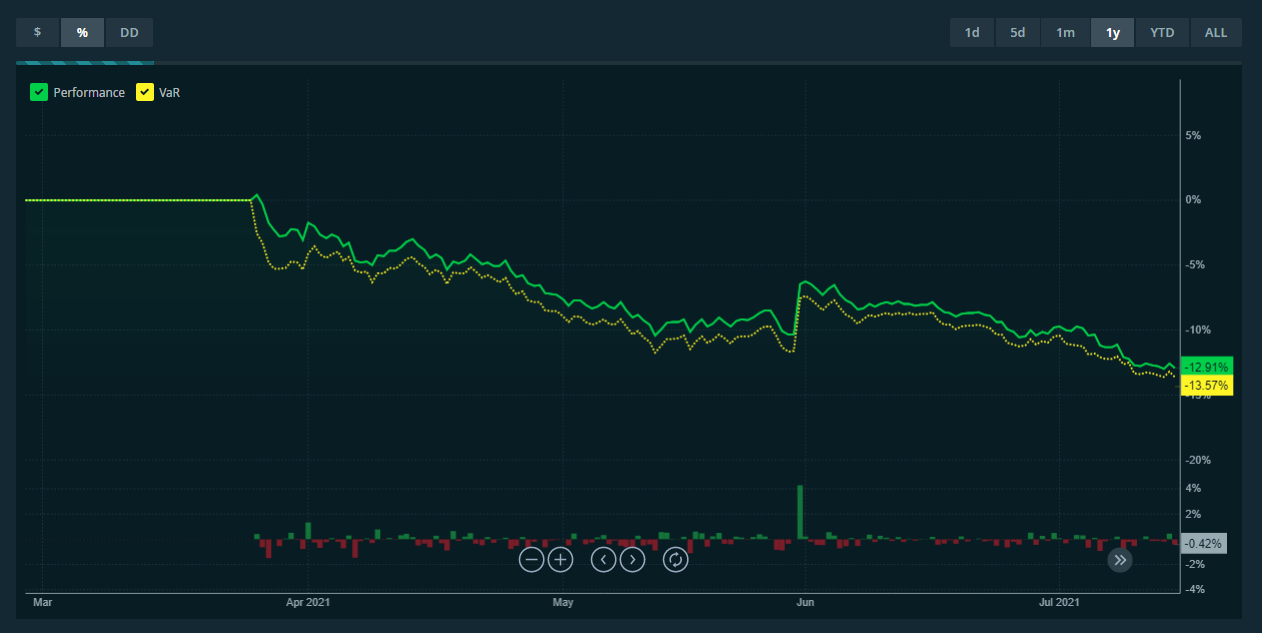 At that point, no matter how many tweaks I made with the Donchian Channel Trend Following Strategy, the result was still the same.
What does this mean?
It's simple.
It means the strategy does not work on the current market condition.
Since I know that there are changes that must be made…
I swallowed my pride and became open-minded enough to adopt a swing trading setup.
Now how did it go this time?
I was able to break the losing streak and now starting to inch closer to breakeven on my forex portfolio.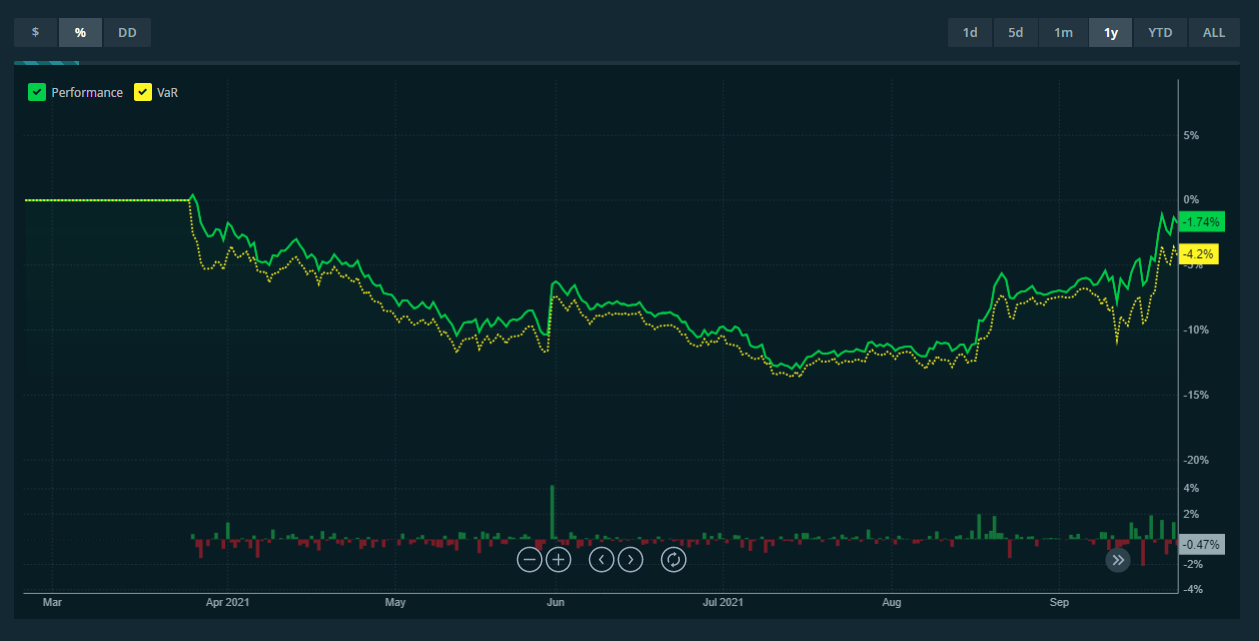 So, if you're the type of trader who wants to buy low and sell high, this strategy is for you.
Keep reading…