How To Use Exponential Moving Averages Like A Pro
For most traders, the Exponential Moving Average is just a regular indicator to filter and exit trades.
But as someone msyelf who's been using it for so many years…
I'll share with you how versatile this indicator can be and how only using this indicator is enough
Let's get right into it!
First…
How to use the Exponential Moving Average as a trend filter
This is probably the most popular way to use Exponential Moving Averages.
But a question not a lot of traders ask is:
Do you really need a trend filter?
The answer is yes!
When?
If you're planning to take both long and short trades such as in the Forex market.
Using EMAs as a trend filter on GBPUSD daily timeframe: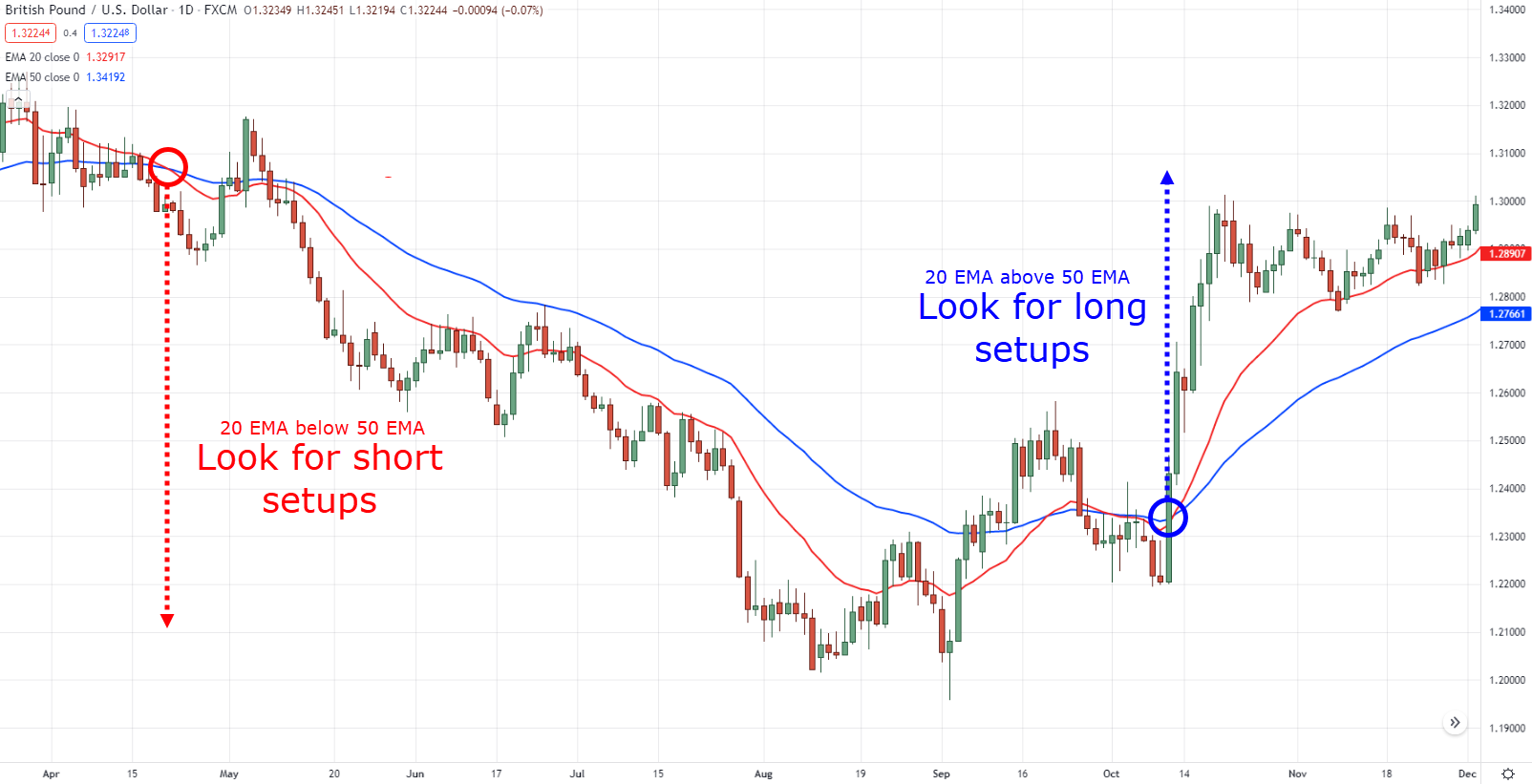 Basically, using a trend filter can be your main switch whether you want to long or short the markets!
How to use Exponential Moving Average to enter trades
Notice how I've emphasized that the price should be respecting the Exponential Moving Average throughout this guide?
Good!
Because that's exactly where you can objectively time your entries since Exponential Moving Averages are "areas of value" throughout different types of trends.
So how do you exactly time your entries then?
First, wait for the price to close below an Exponential Moving Average that has been respected at least two times.
Two tests in the 20-period EMA on NZDUSD daily timeframe: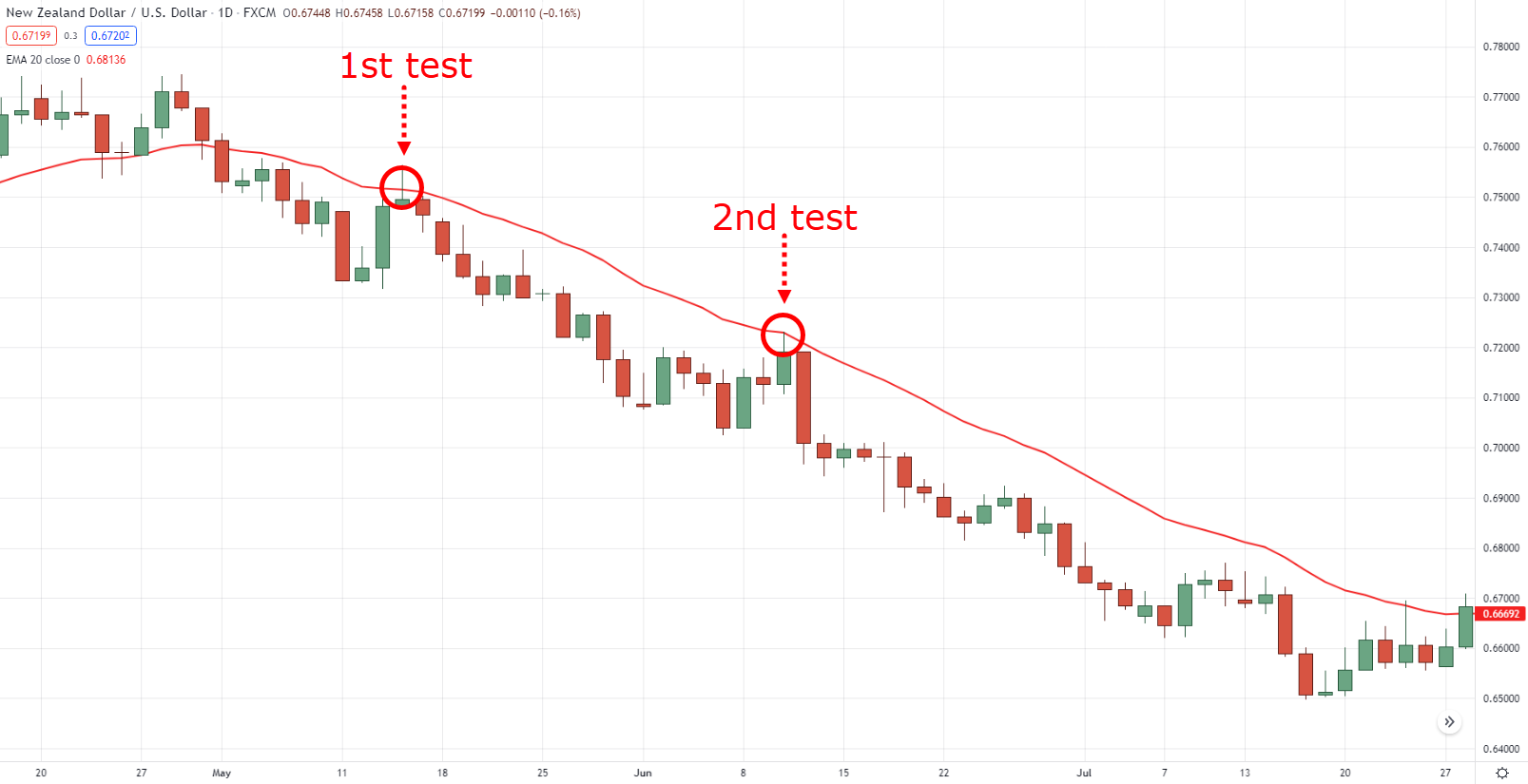 Wait for the price to close back above that Exponential Moving Average.
The price closed above the 20 EMA on NZDUSD daily timeframe: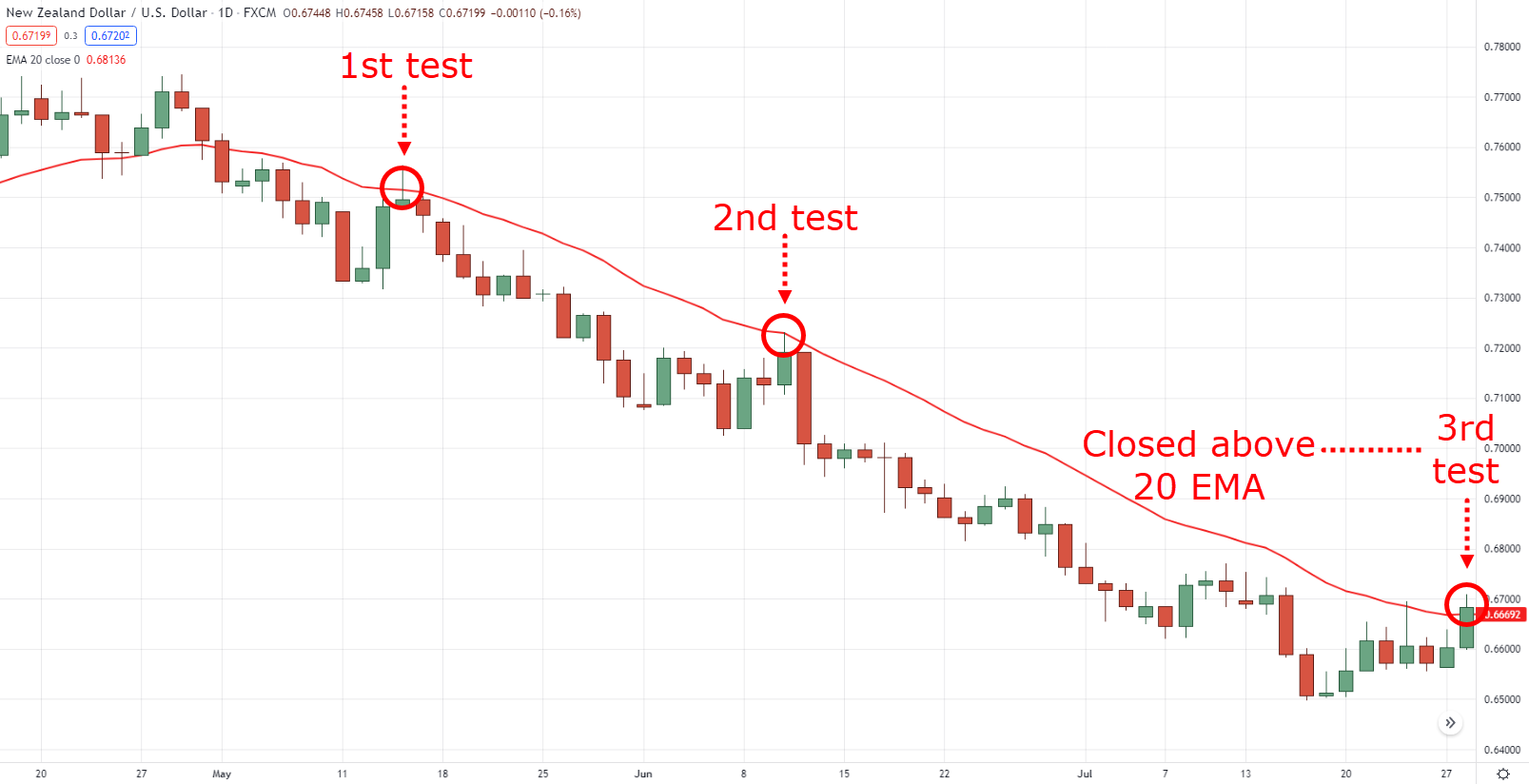 Then enter the trade at the next candle open.
The price closed back below the 20 EMA on NZDUSD daily timeframe: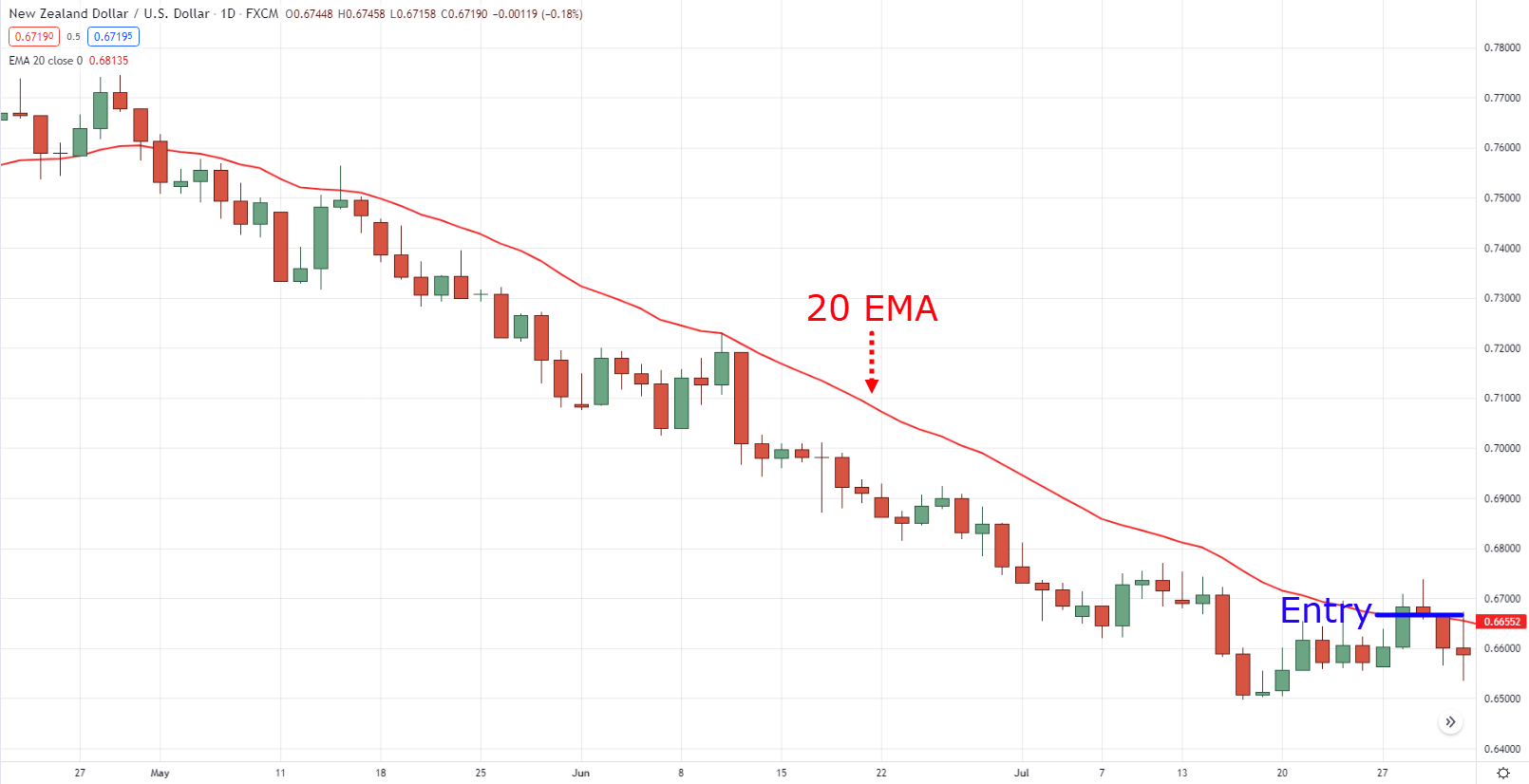 Pretty simple and objective, right?
How to use the Exponential Moving Average to exit trades
The best part about the Exponential Moving Average is that it's a very versatile tool.
It means that the method of how you enter your trades could be the same as how you exit them!
Which is to simply wait for the price to close beyond the Exponential Moving Average.
20 EMA trailing stop loss on USDZAR daily timeframe: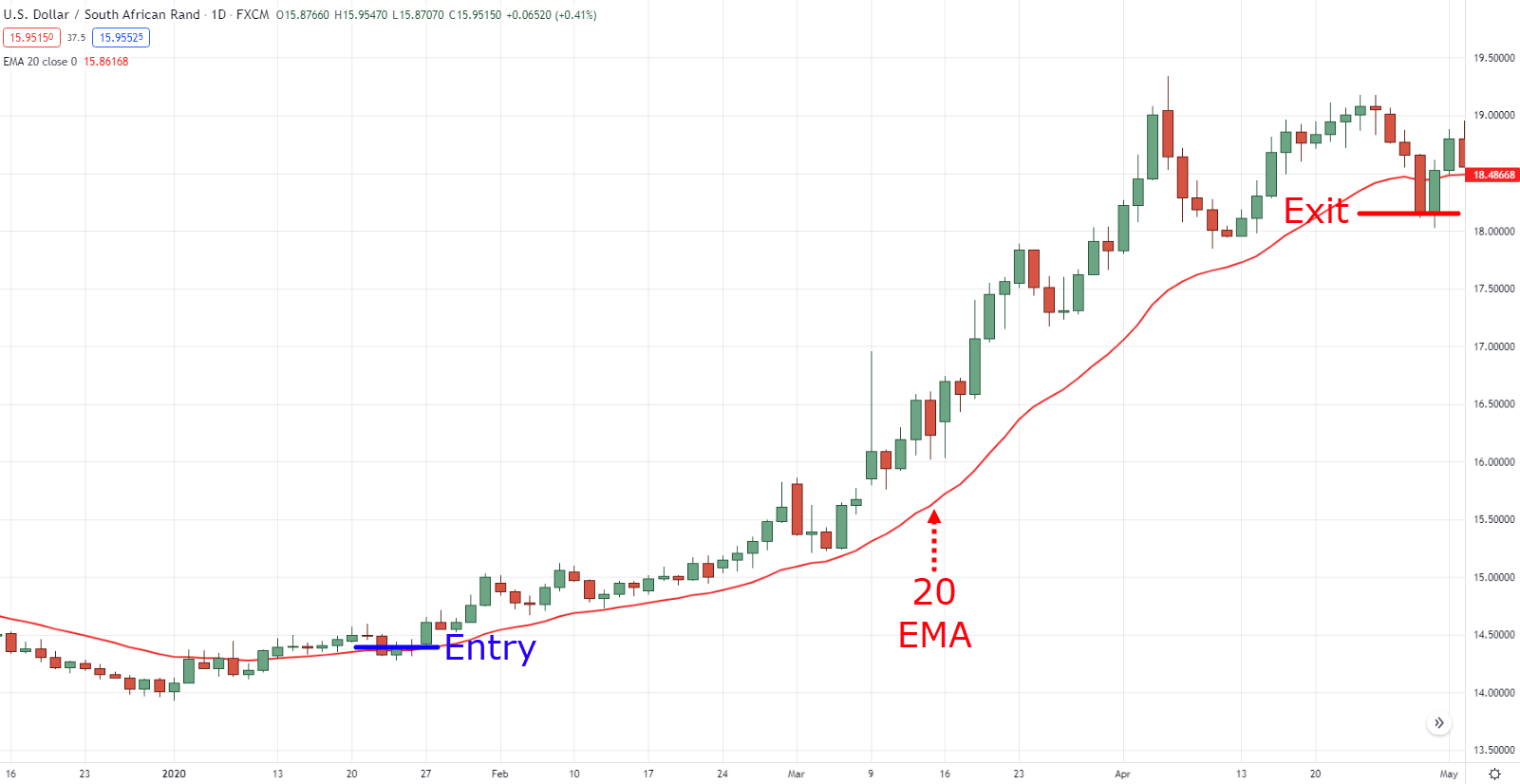 This makes it a reliable trailing stop loss as you don't put a limit to your profits.
But then again…
Make sure you know what type of trends you want to capture, then base your Exponential Moving Average period trailing stop from that!
Use Exponential Moving Averages in strong markets
Here's the truth:
Market conditions change all the time.
Therefore, not all strategies work all the time as well!
So when you're in a losing streak, instead of asking yourself:
"Are the techniques I'm using with the Exponential Moving Average working?"
Ask yourself:
"Am I trading in the right market condition?"
Because sometimes it's not the techniques and indicators that aren't working, but the market condition itself!
You're probably wondering:
"Cool, how do I find strong markets to trade with the Exponential Moving Average then?"
Let me show you.
Forex market
If you trade the Forex market, you want to consider using the currency strength meter.
It tells you which pairs are strong and weak so that you can "pair" them together to trade them.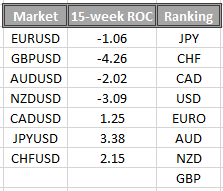 As you can see, the strongest pairs are the JPY and CHF pairs, while the weakest ones are the NZD and GBP pairs.
So you can consider trading GBPJPY, or NZDCHF for example.
Now, I won't go through a ton of details on how to make your own currency strength meter.
So I suggest reading this article here: The Essential Guide to Currency Strength Meter
Stock market
Unlike the Forex market, the stock market has thousands of stocks to choose from.
So in this case, I highly suggest you use a free screener tool such as Finviz.

At first, it can be intimidating as if you're in an airplane cockpit.
But remember our goal?
Our goal is to look for strong stocks to trade, so you'd only want to only pick the settings that meet our goal and ignore the rest.
Nonetheless, you can consider using these settings:

Now, once you have your results (which shows the top strongest stocks for the year so far), you'd want to trade the top 20 results in the list!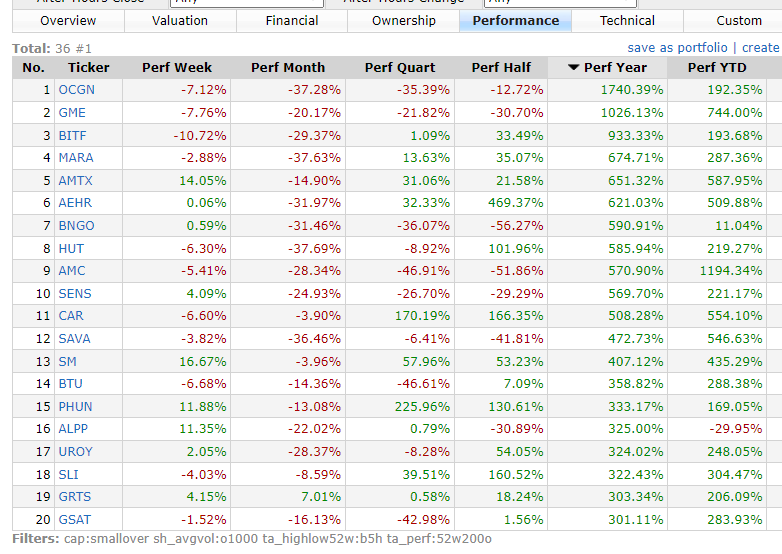 So if you have a 50-period Exponential Moving Average bounce setup on GME and AMC for example…
Then you'd want to make sure to enter GME first, then AMC after.
In the end…
What you're doing here is to strategically position yourself on strong markets which would make the Exponential Moving Average much more effective (without changing the way you trade).
Makes sense?
If so, let's do a quick recap on what you've learned today…