Every so often, an artist comes along with work that leverages culture so well that it captivates masses of people on an emotional level. The art world has seen it many times – consider the notoriety of Banksy, or Andy Warhol. Banksy's stencil graffiti often depicted the lives of working people and their relationship with consumerism. What could be more relatable than that in our modern times? In the early 60's, Andy Warhol famously produced 32 canvases, each home to a screen-printed painting of a variety of Campbell's canned soup which the brand was offering at the time. With the recent rise of NFTs, it seems that Warhol was ahead of his time. The idea of 32 images of soup cans with varying characteristics being minted onto the blockchain as an Opensea Collection doesn't sound so far from what Warhol actually created back in the 1960s.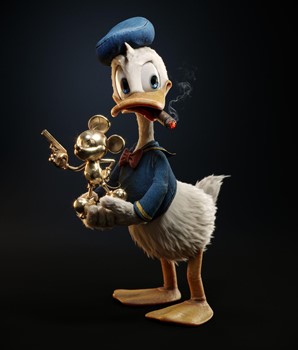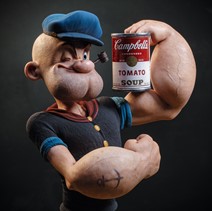 Artists today who possess this understanding of how people relate to the artwork through common, everyday images have the potential to significantly impact the modern art world, and particularly the world of NFTs. One such artist is Gal Yosef, who did exactly this when he posted a raw and re-imagined 3D design of well-loved cartoon character Donald Duck to his Instagram back in 2020.
Ever since then, a marvelous career has unfolded for the young artist, becoming the youngest artist ever to sign with the Eden Gallery, an international high-end art gallery representing a selection of artists from all over the world. This early work not only spoke to a generation who had a love of nostalgic childhood characters but also reflected a pervasive love of money and luxury items in Millennial pop culture.
Collectors from all over the world began buying Gal's physical artworks, eventually going on to create a 1/1 NFT collaboration with DJ Steve Aoki that was auctioned at Sotheby's, selling for $214,000. Yosef then ventured to create his own Meta Eagle Club collection, which then sold out immediately, for 4,200 ETH, which was worth around $13.5 million at the time. with the community in uproar requesting for more of his artwork, and the secondary market prices now trading at $10 million in volume on opensea.
Deep Motivations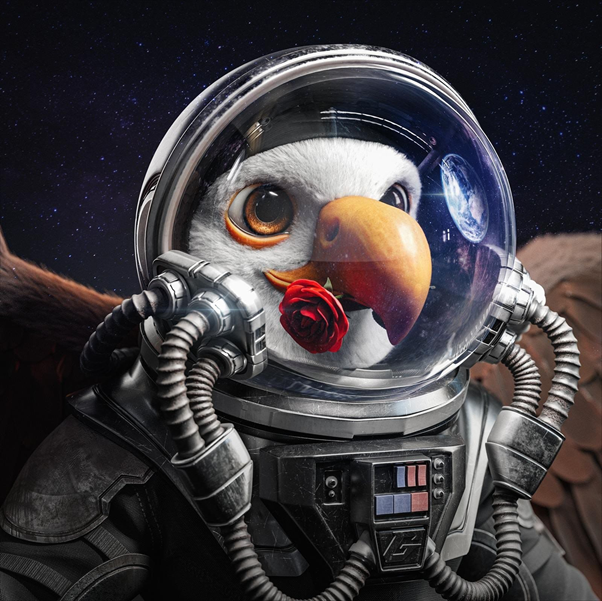 Digital art and 3D sculpting are vast subjects to master – but Gal's childhood lends itself as a testimony that he had the passion required to acquire his incredible artistic skills.
"I would build a fantasy world from toys and action figures. I never liked Minimalism. I liked big worlds filled with life and characters. My favourite movie was Toy Story, I would watch it every day. You could say that I became a 3D artist because of Toy Story." – Gal Yosef
Gal Yosef was intrigued by Disney and Pixar from a young age, eventually beginning his journey in animation and digital design at the age of 12. Largely self-taught, he mastered software such as Maya 3D Design with the help of tutorials on YouTube. 3D artists like Yosef do both the sculpting and the painting entirely in the digital realm. Although this new generation of art is predominantly used for films and gaming, it is fascinating that Yosef chose not to use his skills for these industries.
"I'm not working on deadlines for my artworks, I don't have any limits and even if it will take years for each artwork, I'll finish it only when I'll feel that it's perfect and my idea is clear."- Gal Yosef, Interview with Vogue
A Creative Transition Into the Metaverse
Gal went from being a curious child who physically built elements of fictionalized worlds from pieces of plants and stones that he found outside his home, to achieving massive success in the jungle of the art world with Eden Gallery. Today, he is making a new transition – from art galleries to the metaverse. Web3 has given Yosef the opportunity to go beyond making work based around childhood characters, by providing the infrastructure needed for him to build his own world. "Meta Eagle Club" is his first installment of a series of his own unique collections – making up a digital art world called Galyverse.
"I was searching for a character that could help portray a charismatic avatar, but also one that's warm and inspiring to others. Depicted as a symbol of freedom in so many different cultures, Eagles also represent the strong and brave-hearted. Working on the wings and feathers allowed me to soar and explore new heights in 3D art." – Gal Yosef, Galyverse
For the first time, this is an NFT project from Yosef in which he is both the artist and founder of the project, alongside RNSNC ("Renaissance") – an NFT studio with the goal of connecting art, tech and luxury.
A Plan To Bring Future Value
A famous quote often misattributed to Andy Warhol is, "In the future, everyone will be world-famous for 15 minutes." Ironically, critics of NFTs often knock the new decentralized economy as being short-lived, as the quote could now suggest. However, the inherent value of Gal Yosef's metaverse project does not stop with its artistic quality, but it also extends into its community. Meta Eagle Club looks ahead to how it will bring value in the future in its unique roadmap, or as it's named within the project, "Flight Path". Amazingly, Galyverse aims to provide flight experiences of many kinds for its collectors, such as jet and hot air balloon flights, invitations to parties in the US and around the world, as well as opportunities to get physical Gal Yosef artwork. The project will even be donating $100,000 for the protection of eagles.
To learn more about Gal Yosef, Meta Eagle Club, and Galyverse, go to galyverse.io . To view the full collection of meta eagles, you could look at the collection over at opensea.